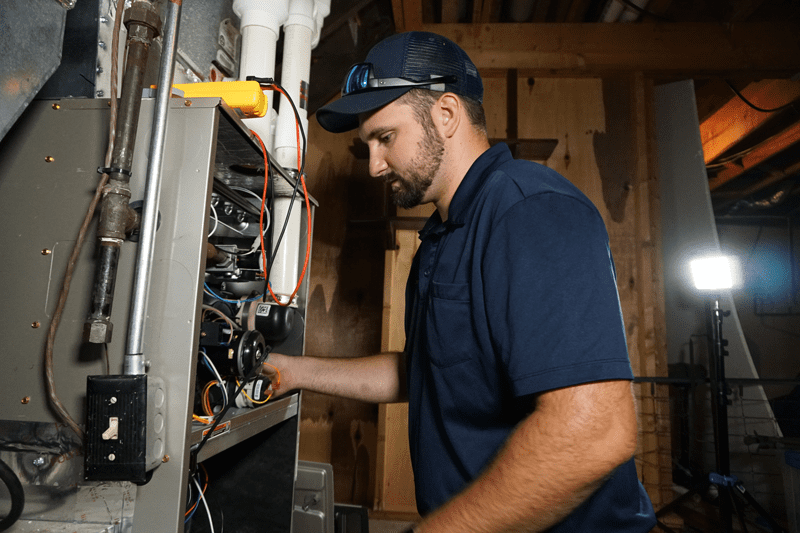 Dependable Furnace Repair in Clayton, OH and Englewood, OH
Our team of home heating heroes here at Clayton-Englewood Heating & Cooling, truly understand that furnace breakdowns and other problems are among the worst of hassles for a homeowner during the wintertime in Ohio, especially if you've got children, elderly adults or vulnerable family members in the home.
We offer 24-hour emergency furnace repairs, heater repairs of all sorts, 365 days a year, including weekends and holidays. Our NATE-certified technicians are fast, honest and friendly; they're prepared to show up to your home on time, conduct fast furnace diagnostics and — with your approval — perform emergency HVAC repairs on the spot. We'll have your home heating equipment firing on all cylinders in no time — and it won't cost you an arm and a leg.
Restore Your Heat with Clayton-Englewood Heating & Cooling
Waking up in the dead of winter to discover that your home's furnace has died can be incredibly frustrating. If this has happened to you or you're having some other type of furnace problem, our team of home heating heroes here at Clayton-Englewood Heating & Cooling are standing by ready to help. Our furnace repair team is fast, friendly and affordable. If you're having furnace problems in your Montgomery County area home, you're in the right place. Contact Clayton-Englewood Heating & Cooling today!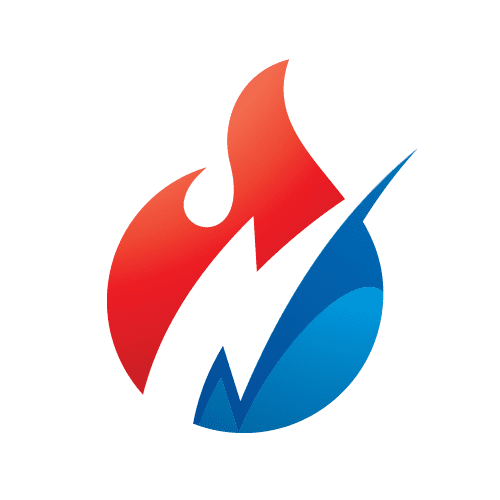 10% off Service Call
Book Now
Dependable Furnace Repair in Clayton-Englewood, OH
Common Types of Furnace Problems
If you have an older heating system that's outdated or one that's been in use for more than a decade, there are certain types of furnace problems homeowners commonly encounter when a furnace is on the decline. In the following, we've listed some of the more common types of issues concerning a home heating unit:
Blower Runs Continuously
If your heating unit's blower is constantly running, It could be the fan limit control switch needing replaced or it might need to be reset. With that said, however, it could also be the thermostat "FAN" setting, which would need to be switched over to its AUTO setting, which will enable the fan to only run when the system is heating or cooling.
Thermostat Is Faulty
After ruling out other common culprits with the furnace system itself, like the air filter and such, check your thermostat. Problems with an HVAC system's thermostat can result in wild temperature swings, a furnace that produces no heat, or the unit cycling on and off too often. First make sure your thermostat has power and that there is no dust or debris in its components. If that doesn't help, give us a call.
Lack of Heat
Once Ohio's frigid weather starts setting in, it's essential to make sure your home heating equipment is working properly and providing sufficient heat to keep your whole home warm throughout the winter. If your furnace stops producing heat or if it begins blowing only cool air, there are several possible culprits:
Verifying that the furnace has power
Making sure all heat registers are open
Checking settings on thermostat
Furnace Cycles On and Off Frequently
You can reduce energy costs and prevent damage to your expensive furnace by addressing issues of "short cycling." This is important because in very cold weather, this constant turning off and on might be normal and necessary to keep your home at a comfortable temperature. However, it could also be a sign of a bigger underlying problem with your furnace. Possible causes include a dirty air filter, or a faulty thermostat, or a blocked exhaust vent.
Noisy Furnace
Noisey heating equipment usually indicates a problem developing that can turn into an expensive repair if not addressed early on. It could sound like a high-pitched squealing, a loud banging or just a low-pitched humming noise that's distinct from the furnace's normal hum. Often, it'll save you money in the long run if you call a professional to have a look. It could be solved by replacing the filter, if air blockage is causing the noise, and oiling the blower motor.
Pilot Light Is Out
With older gas furnaces, the standing pilot light can go out if there's a strong draft or if the equipment gets dirty. Additionally, the thermocouple could have gone bad, causing the gas supply to shut off. The pilot light going out is a fairly common reason for a gas furnace to fail to produce heat. Fortunately, in most cases relighting the pilot light is fairly straightforward and simple. If the thermocouple is faulty, replacement is easy, fast and affordable.
Dependable Furnace Repair in Clayton-Englewood, OH
Should I Repair Or Replace My Furnace?
When home heating equipment breaks down, fixing it can be quite expensive. And, if you find yourself having to fix it more and more, you may wonder whether it's better to repair or replace your furnace. Below we list seven essential questions and answers that will help you decide whether to repair or replace your furnace.
1. How Old Is My Furnace Now?
Furnaces usually last around 15 years at least, and often even longer if they're properly serviced and maintained over the years by a professional. Nevertheless, as a furnace gets older, shelling out for expensive repairs makes less and less sense.
2. What Condition is the Furnace In?
Investing in repair parts and labor on a system that's been running beautifully is usually well worth the money. However, if the furnace is loud, rusty, sooty, blowing cold air and running up your heating bill, it might be time to say goodbye, especially if there's any safety issues.
3. What's the Projected Cost Of Repairs?
This question also ties back to the previous two questions. The age and condition of your furnace will help you determine how much you should spend for repairs. For example, spending a few hundred dollars on a furnace that's middle-aged isn't unreasonable. However, if the repair estimate comes to more than a thousand, your money is probably much better spent investing in a new model.
4. Will A New Furnace Save Me?
Advances in HVAC technology are shocking to some customers. Today's furnaces are far more energy-efficient than those of even a few years ago. If you install a new unit, you can confidently expect your fuel bills and your carbon footprint to drop.
5. Questions About Air Quality & Temperature Control
A new furnace can provide superior home comfort in a variety of ways. For example, you can add on an air purifier or whole-house humidifier in your furnace to improve indoor air quality. You can also set up your new furnace so that you can set your heating at different temperatures in different zones of your home.
6. Are There Any Rebates Or Special Offers For A New Furnace?
Take advantage of special offers and deals that will make the purchase of a new home heating system more affordable. You could qualify for a program such as the Home Efficiency Rebate, which is offered to incentivize upgrading your home's energy efficiency.
7. What Will My Budget Cover?
To make this determination, you will have to crunch the numbers and see what you can afford. When you balance the cost to repair or replace a furnace, usually the repair has a lower upfront price tag. However, rebates and special offers (as outlined above), combined with your potential savings on fuel bills, can turn furnace replacement into a much more budget-friendly option.
Whether You Repair Or Replace – We're Here For You
Whether you decide to repair your furnace or replace it, letting the friendly professionals at Clayton-Englewood Heating & Cooling handle the job for you is a wise way to go. We'd be happy to discuss your various options and go over our financing options as well.

Why Choose Clayton-Englewood Heating & Cooling?
When it comes to anything related to a furnace or an air conditioner, or any sort of HVAC system, one call does it all when you reach out to Clayton-Englewood Heating & Cooling. Our home heating and cooling heroes have the prices you want, the HVAC services you need and the comfort you deserve. We offer heating when you need it and cooling when you want it — with services available around the clock.
We go to great lengths to help homeowners in the Miami Valley. We understand the importance of finding and hiring an HVAC company that's reputable, that does the job right, does it fast and does it at friendly and affordable prices.
Because this decision affects your home finances on top of your comfort and health, it's important to find an HVAC company that understands your needs and one that will walk you through the often troubled waters surrounding problems with home comfort equipment, a company that's qualified, honest, reputable and fully insured. It's also important to make sure you're doing business with a professional that's NATE-certified, and has a proven track-record of customer care and customer satisfaction.
At Clayton-Englewood Heating & Cooling, our service is second to none. Over the years, our customers have consistently given us positive feedback in support of our superior Five Star reputation. We are members of the Five Star Family. Because of this, we encourage new customers to verify our positive reviews and ratings for themselves. This should be done before hiring anyone to work on your valuable HVAC equipment.
We guarantee customer satisfaction above all else across the board. We have 24-hour emergency HVAC services 365 days a year, including weekends and holidays. We service, install and repair all the major brands of HVAC equipment (heat pumps, furnaces and air conditioners) utilizing cutting-edge technology. If you have us to come out to your residence to work on your HVAC system or install a new home heating or cooling system, you are treated with the utmost professionalism, care and friendliness by an employee of ours who's state-certified and who we have vetted, drug tested, and screened above and beyond the state's requirements. The reason we screen our employees like this is because we want to make sure we are sending you the absolute best the local HVAC industry has to offer.