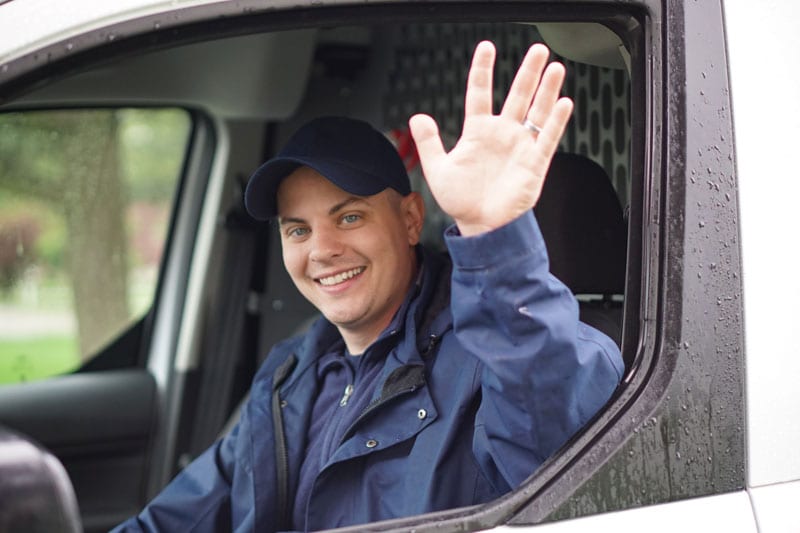 Dependable Emergency HVAC Services in Clayton and Englewood, OH
We offer emergency HVAC repairs year-round, day and night, for any and all heating and cooling concerns that might arise in your Miami Valley Ohio area home. When you call our 24-hour customer support line, our friendly home heating and cooling heroes are standing by. We have a team of NATE-certified HVAC technicians available in your area who can be notified of your problem and dispatched to your home as quickly as possible. When they arrive, they come fully prepared to perform fast and accurate furnace, heat pump or A/C diagnostics. Depending on what is found and your decision from there, they can execute emergency HVAC repairs on the spot to get your comfort system back online in no time.
Call your local gas company or fire department if you're concerned about a gas leak.
Once you've reached out to us, you can rest assured we've got it from there and help is on the way.  That's comfort on call, 24-hours a day, and comfort and safety you can count on! 
Dependable Emergency HVAC Services in Clayton-Englewood, OH
What Constitutes an HVAC Emergency?
Whenever a problem arises with any kind of HVAC system here in the Miami Valley Ohio area, it's never a welcomed experience — no matter what time of year it is. We at Clayton-Englewood Heating & Cooling understand this better than anyone in the heating and cooling business. As a family-owned business, with humble family origins, we've been helping countless area homeowners for too many years to count. Day in and day out, we put a personal touch to our HVAC services. We always strive to see the human being inside, behind the business side of things.
It's not uncommon for a homeowner to question whether their specific heating or cooling system problem merits the need for an expert, or for emergency services. If you're having a furnace or air conditioning problem, the following are a few guidelines to help you evaluate your situation.
Lack of Heat
With Ohio weather becoming as cold as it becomes during the winter, a homeowner needs to have access to adequate heating if they're going to survive the frigid months. If your home heating system, heat pump or furnace isn't producing heat, and the interior temperature is quickly descending, it always merits a call for a professional — for emergency heating system services.
A/C Failure
Here in the Greater Montgomery County area, homeowners come to count on their home cooling equipment for good reasons. Essentially, our air conditioners get us through Ohio's hot and humid summer months to provide a sort of sanctuary from the heat. If an A/C unit stops cooling, interior temperatures can become uncomfortable in no time. This is considered an HVAC emergency, particularly if there are young children, elderly family members or pets in the home.
Safety Concerns
Perhaps the most obvious concern is safety. And while this might seem like a no-brainer, it would behoove us not to list it. In the HVAC business, it's essential to abide by the axiom that safety should come first and foremost. It's always far better to be safe than end up being sorry. It's your home and family, afterall. Therefore, if you suspect any sort of safety issue, don't hesitate to call us right away. This includes things such as strange smells, smoke, leaking gas, leaking refrigerant, sparks or strange loud noises. These are things no homeowner should take chances with. If you have any concerns whatsoever about the safety and welfare of your family or home because of a heater or air conditioner problem, please don't wait to see what happens. We're here to help because we care.
When It's Not Necessarily an HVAC Emergency
While it seems nearly any problem with a heating or cooling system can be a hassle, not all problems necessitate a late night or holiday call for a technician. These minor issues include:

Full system replacement or installations
Air filter cleaning or replacement
Power outages or lack of fuel or gas
Routine seasonal maintenance
Minor repairs when the outdoor temperatures are mild
Not Sure Whether You Need Emergency Service?
If your HVAC system is acting up or having issues, we suggest checking out the following before calling for emergency HVAC services. You might be able to resolve the issue on your own:
Go to your circuit breaker box and check whether a circuit breaker has been tripped (or fuse).
Check the thermostat to make sure that the HVAC system hasn't been turned off.
Thaw out any ice buildup on your A/C unit by turning it off and using the fan to melt the ice. After the ice has melted, turn it on to see if it returns to full function.
We at Clayton-Englewood Heating & Cooling sincerely hope you never have to go through an HVAC emergency. Nonetheless, if you do, we're always here and happy to help 24 hours a day, 365 days a year.
Are you in need of emergency services?
Dependable Emergency HVAC Services in Clayton-Englewood, OH
Troubleshooting a Furnace
If your home heating system isn't heating your home like it should, whether it's giving you problems or not working at all, we at Clayton-Englewood Heating & Cooling present the following furnace troubleshooting tips:
Making sure the thermostat is working properly:
Adjust your temperature a few degrees above the current room temperature.
Check the power source and batteries to make sure the thermostat has power.
Make sure the device is set in "heat" mode.
If the furnace doesn't have power, it won't turn on, preventing heating:
Check the equipment's power source at the breaker or fuse box.
Change fuses or reset breakers if applicable.
Check the on/off switch near the furnace or air handler to make sure it is set to "On."
The furnace may not be heating because the motor has been overloaded, requiring reset:
Use the reset button, located on the side or front of the furnace.
If the furnace does not have fuel or gas, it can't produce heat:
If you have a propane or oil furnace, make sure you have fuel in the tank available for heating.
Make sure the gas supply valve to the furnace is on.
Issues causing your furnace to not heat properly:
If your furnace is older and it uses gas, a faulty pilot light can be the reason your system isn't heating. There are several reasons the pilot light might not want to stay lit. We would be happy to diagnose the source of the problem and make the repairs necessary, which could be replacing the safety cutoff valve, replacing the thermocouple, cleaning the pilot light's orifice, or adjusting the flame. If you have a dirty flame sensor, the furnace won't function properly because this safety feature is in place to prevent unsafe burning. Because of this, the flame sensor may require adjustment or cleaning.
In need of emergency HVAC services?
Dependable Emergency HVAC Services in Clayton-Englewood, OH
Troubleshooting an Air Conditioning Unit
If your A/C gives out on a summer day, it can have your whole house roasting in no time. Below we explore some of the most common types of air conditioning problems a homeowner might encounter. If you're experiencing any issues like these, the following Do-It-Yourself A/C troubleshooting tips and repair techniques are worth checking into:
A/C is On But Not Cooling
Possible Causes: If your central AC is running but it isn't providing sufficiently cool air, something could be blocking airflow in your system somewhere. Areas to consider include air filters, registers and compressors. Moreover, low refrigerant levels could also be the culprit. Without the adequate refrigerant, heat and humidity cannot be removed from the air efficiently.
Solutions:
Check the thermostat to make sure it's working properly.
Take a look at the condenser to see if it's dirty or blocked. If so, clean it and remove the blockage. The condenser can become blocked by tall weeds, grass, or other airborne debris.
Clean and/or change your filter (We recommend once a quarter.)
See if any ice has formed on the coils. If so, turn the fan on to melt it.
Check and/or clean the outdoor compressor. You could have a faulty compressor or an inadequate amount of refrigerant in the system, which would require a professional to fix.
Poor Airflow
Possible Causes: Typically, poor air flow is the result of a bad or dirty air filter, or ductwork that has become crimped, blocked, disconnected or compromised in some way.
Solutions:
Make sure your A/C air filter is clean. If it's dirty, clean or replace it.
Check all your ductwork to make sure it's not disconnected, including ductwork that may be difficult to reach, like in your attic, basement and crawl spaces. Repair or connect as needed. If professional help is needed, call us.
Check register dampers on vents in the rooms to make sure they are set to an open position.
A/C Won't Turn On
Possible Causes: If you can't get your unit to turn on, it could be from a blown circuit breaker or fuse. An internal switch could be off, or your thermostat could be improperly set or faulty.
Solutions:
Make sure it's getting power from the electrical panel.

Reset the circuit break or replace the fuse.

Check your thermostat settings to make sure it's set on "cool" and not set to "off" or "heat."

Check for excessive water in your condensate overflow tray. There may be a sensor on your tray that turns the unit off when water pools up.

Check that all switches in and around the air conditioner are set to the "on" position, including the external safety switch that's typically located near the condensing unit.

Check to make sure the blower door on the air handler is securely closed.
Bear in mind, cleaning your home cooling system is something you can usually do on your own, as long as you have a basic comprehension of the different components of your system. However, there comes a point when you should definitely seek professional help. These are very intricate and expensive systems, afterall. If you've already done basic A/C troubleshooting and your A/C problem still persists, give us a call and we'll walk you through what to do next.
In need of emergency HVAC services?
Dependable Emergency HVAC Services in Clayton-Englewood, OH
Other Troubleshooting Tips
Heat Pump Troubleshooting
Overall, most heat pump malfunctions are related to one of three areas: the defrost, the thermostat or airflow problems. Fixing this equipment typically necessitates the expertise of an NATE-certified technician. Nevertheless, pinpointing or clarifying the nature of the problem with some simple heat pump troubleshooting measures will help you to explain the problem to the technician and better understand the repairs being proposed.
We always begin with the thermostat. You need to make sure it's in heating mode and set to no more than 4 degrees above the current temperature of the room. As long as the temperature outside is more than 35 degrees, this should make the heat pump kick on and not the backup heating elements. Then, you turn on the fan switch.
If your heat pump fails to activate and the fan doesn't run, check to see if you have tripped the breaker controlling the system's air handler. If a breaker has been tripped, the problem could be a faulty electrical connection, a shorted controller board or a seized blower motor. If not the breaker, it could be a stuck fan relay, a defective thermostat or low voltage wiring connections.
If the fan is running but only cold air is coming out, set the thermostat at least 5 degrees or more than the room temperature to activate the backup heating elements. If you feel warm air after that, the problem is originating in the outdoor condenser/coil. If you still don't feel any heat, the air handler might be at fault or it could be a defective thermostat.
Problems at the outdoor unit could potentially include obstructions to coil airflow like grass clippings or leaves. If there's ice formation on the outdoor coil, the control module may be defective or it could be related to the defroster timer. If the fan or the outdoor compressor isn't operational, a seized motor, wiring issue, or compressor run capacitor might be the cause of the problem. If the outdoor fan runs but the unit still doesn't heat, the heat pump's refrigerant might be low.
How to Replace Your A/C Filter
In a lot of residential dwellings, the A/C's air filter is located near the thermostat. So, to start this process, the first step is to find the filter. Go to your thermostat, and look for a vent. If you're unable to locate a return vent with the filter located nearby, look at the A/C unit. Some models have the air filter closer to the system, instead of at the return air grille. When you find the air filter, the following steps explain the rest:

Make sure it's getting power from the electrical panel.
Reach in and pull it out, carefully.
Then, set the air filter off to the side, and assess the condition it's in. A dirty or bad air filter is usually a dingy, greyish-brown color. If it still looks whitish and fairly new, there might be some life left in it.
Identify the arrow pattern on the edge of the filter. The direction of the arrows is important to ensure proper airflow. The arrows should not point outward or towards you. If they do, airflow will be restricted.
After locating these arrows, position them so they're facing the wall.
Then, put the filter back into the return duct opening. You want to gently ease in the bottom portion of the filter first, and then the top.
Double check to confirm the arrows are pointing toward the air duct.
Give the filter a gentle pat to ensure that it snugly fits into the opening.
Then, place the cover back on.
Finally, tighten the fasteners.
In need of emergency HVAC services?
Dependable HVAC Experts in Clayton-Englewood, OH
Service Maintenance Agreement (SMA)
For those customers who intend to take care of their residential HVAC equipment, we offer Service Maintenance Agreements. Our SMAs are designed to help a customer avoid expensive breakdowns, curb energy wasting and other types of damages while keeping warranties active. In any case, when it comes to your home's expensive HVAC equipment and related components, being proactive always pays off in a big way. These SMA's also save you money on the cost of the service overall.

Why Choose Clayton-Englewood Heating & Cooling?
When it comes to anything related to a furnace or an air conditioner, or any sort of HVAC system, one call does it all when you reach out to Clayton-Englewood Heating & Cooling. Our home heating and cooling heroes have the prices you want, the HVAC services you need and the comfort you deserve. We offer heating when you need it and cooling when you want it — with services available around the clock.
We go to great lengths to help homeowners in the Miami Valley. We understand the importance of finding and hiring an HVAC company that's reputable, that does the job right, does it fast and does it at friendly and affordable prices.
Because this decision affects your home finances on top of your comfort and health, it's important to find an HVAC company that understands your needs and one that will walk you through the often troubled waters surrounding problems with home comfort equipment, a company that's qualified, honest, reputable and fully insured. It's also important to make sure you're doing business with a professional that's NATE-certified, and has a proven track-record of customer care and customer satisfaction.
At Clayton-Englewood Heating & Cooling, our service is second to none. Over the years, our customers have consistently given us positive feedback in support of our superior Five Star reputation. We are members of the Five Star Family. Because of this, we encourage new customers to verify our positive reviews and ratings for themselves. This should be done before hiring anyone to work on your valuable HVAC equipment.
We guarantee customer satisfaction above all else across the board. We have 24-hour emergency HVAC services 365 days a year, including weekends and holidays. We service, install and repair all the major brands of HVAC equipment (heat pumps, furnaces and air conditioners) utilizing cutting-edge technology. If you have us to come out to your residence to work on your HVAC system or install a new home heating or cooling system, you are treated with the utmost professionalism, care and friendliness by an employee of ours who's state-certified and who we have vetted, drug tested, and screened above and beyond the state's requirements. The reason we screen our employees like this is because we want to make sure we are sending you the absolute best the local HVAC industry has to offer.