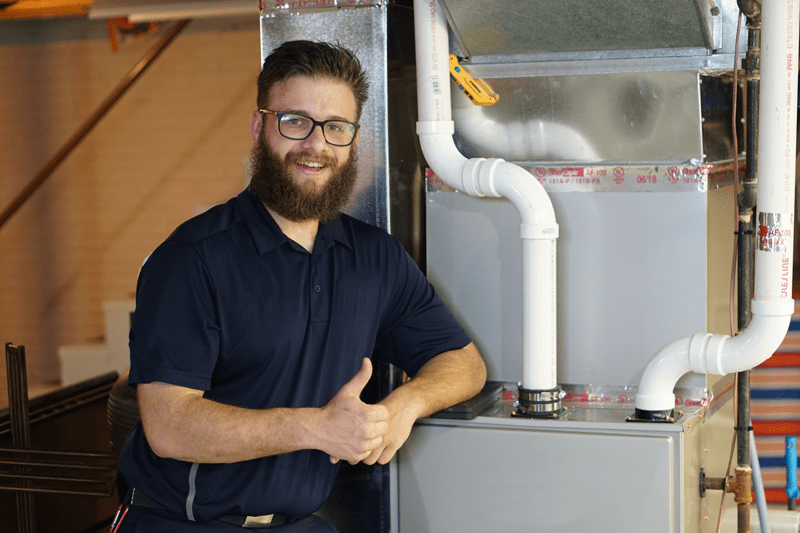 Dependable Furnace Installation & Replacement in Clayton, OH and Englewood, OH
When a home heating system gets old and it starts costing a lot more to heat the home, there comes a point when a homeowner needs to consider having a new furnace installed instead of continuing to waste money in a furnace that's on the decline. It's going to need to be replaced sooner or later anyway. If your furnace is getting older or you're thinking of replacing it, you're in the right place.
At Clayton-Englewood Heating & Cooling, we have the prices you want, the service you need and the comfort you and your loved ones deserve. We are a family-owned and operated business built on family values that have made us who we are today. Those values are anchored in the products and services we provide, and the way we keep Montgomery County area homeowners comfortable and happy by offering air care beyond compare at prices that won't break the bank.
We understand better than anyone how buying a new furnace is a major decision for a homeowner here in the Greater Montgomery County Area. Because of this, we make the whole furnace installation process a smooth ordeal for each and every customer. We treat our customers the way we would want to be treated if we were in their situation making a major HVAC decision like this, like replacing a furnace. HVAC equipment isn't cheap, after all, and a new furnace should last you a very long time.
Dependable Furnace Installation in Clayton-Englewood, OH
Install a Furnace with Clayton-Englewood Heating & Cooling
Waking up in the dead of winter to discover that your home's furnace has died can be incredibly frustrating. If this has happened to you or you're having some other type of furnace problem, our team of home heating heroes here at Clayton-Englewood Heating & Cooling are standing by ready to help. Our furnace repair team is fast, friendly and affordable. If you're having furnace problems in your Montgomery County area home, you're in the right place. Contact Clayton-Englewood Heating & Cooling today!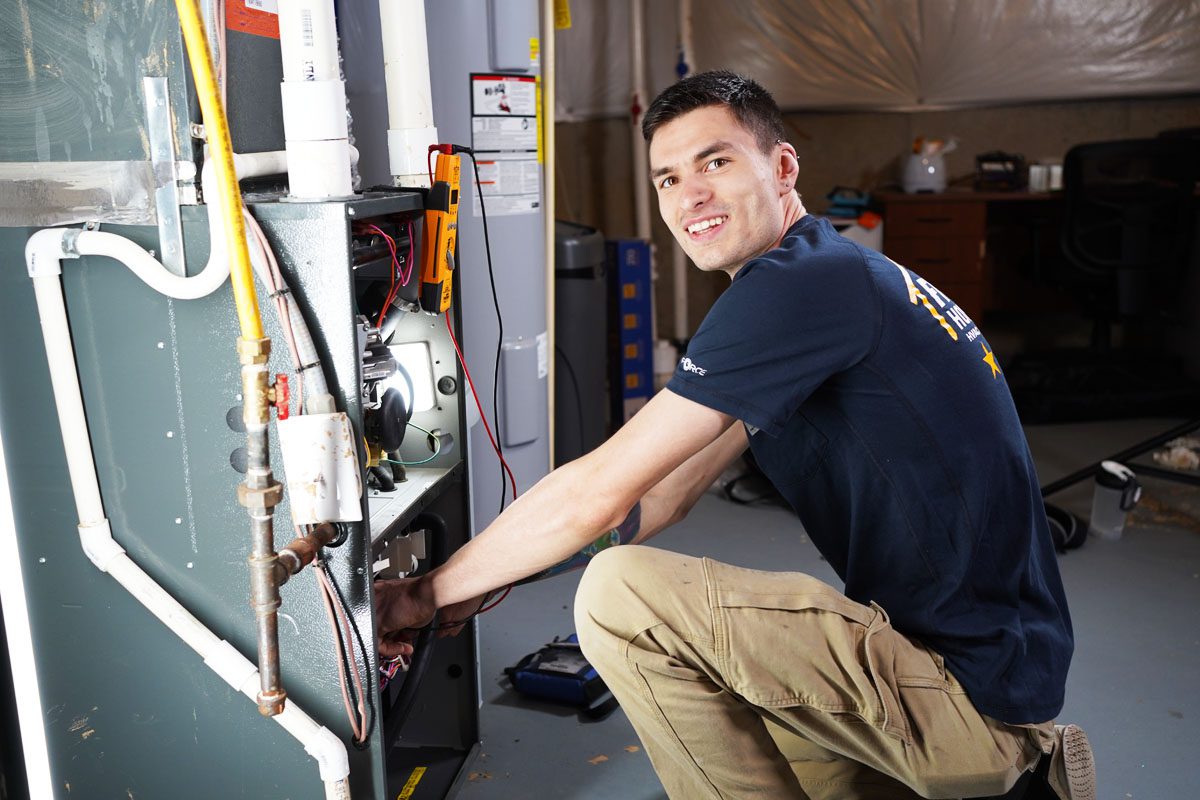 A Purchasing Guide for Homeowners
Picking the Right Furnace
Owning a good working furnace that's efficient is essential for keeping your Montgomery County, Ohio, area home safe, warm and comfortable throughout the winter months. But how do you choose which type of furnace is best suited for your home? If you're looking to replace your old or outdated furnace, the following guide can help guide you in the buying process. Before you make a final decision, consider the following 5 factors:
1. Furnace type
Modulating Gas Furnaces: Of all the gas furnaces, this type regulates heat the most precisely. It's ideal for colder climates to regulate room temperatures evenly and efficiently.
Single-Stage Gas Furnaces: A standard single-stage furnace features a gas valve that opens and closes. The gas flows at a single rate, which is high. Single-stage gas furnaces operate at about 80 percent AFUE and are best for milder climates.
Two-Stage Gas Furnaces: For optimal efficiency, two-stage gas furnaces enable the gas to flow high or low. To regulate the temperature, the unit's thermostat communicates with the furnace.
Electric Furnaces: Although they aren't as economical as gas furnaces, electric furnaces are still popular options. They heat air by moving it over electric coils and distributing the warmed air throughout the home.
Oil Furnaces: Oil furnaces are ideal for homeowners who don't have access to other types of fuels.
2. Fuel Source
Because it's readily available and usually the least expensive, natural gas is the most popular fuel source. Moreover, gas furnaces are usually cheaper to purchase and install, and they're a lot less messy than oil furnaces.
However, if gas supply is not available in your area, the next best choice is oil. Overall, electric furnaces are the cheapest to buy and install. However they don't heat large homes very well and will cost the most to operate in electric bills.
3. Energy efficiency
So that consumers can compare efficiency ratings, the Federal Trade Commission requires all new furnaces display AFUE ratings. The AFUE represents the annual heat output of the furnace compared to the total annual energy consumed. An AFUE of 80 percent means that 80 percent of the energy heats the home while the other 20 percent escapes. AFUE does not include any heat lost through the duct system. 
Although having a furnace with a high rating is important, the cost of the fuel source should also be taken into consideration as it can take away from the furnace's efficiency. The most efficient furnace is an electric one. An electric furnace barely loses any energy. The AFUE rating for an electric furnace is 95 to 100% However, in spite of the high-efficiency level, electricity is more expensive. This means electric furnaces the most expensive to run.
4. Size
Installing a furnace that's properly sized is the essential to heating your home. If the home heating unit is too small, it won't heat your entire home. A furnace that is too big, on the other hand, will waste money on fuel by generating heat you don't need. A variety of factors determine the best size, including things like insulation, square footage, ceiling height and the number of windows. To guarantee we put the right size unit in a home, we perform an in-house evaluation that includes all these factors and more.
5.Check Reviews
When you finally decide to buy a furnace, check the system's manufacturer reviews through Consumer Reports and the Better Business Bureau to see how customers respond to problems and complaints. If you are having the furnace professionally installed, check reviews for the HVAC contractor as well.
Dependable Furnace Repair in Clayton-Englewood, OH
Should I Repair Or Replace My Furnace?
When home heating equipment breaks down, fixing it can be quite expensive. And, if you find yourself having to fix it more and more, you may wonder whether it's better to repair or replace your furnace. Below we list seven essential questions and answers that will help you decide whether to repair or replace your furnace.
1. How Old Is My Furnace Now?
Furnaces usually last around 15 years at least, and often even longer if they're properly serviced and maintained over the years by a professional. Nevertheless, as a furnace gets older, shelling out for expensive repairs makes less and less sense.
2. What Condition is the Furnace In?
Investing in repair parts and labor on a system that's been running beautifully is usually well worth the money. However, if the furnace is loud, rusty, sooty, blowing cold air and running up your heating bill, it might be time to say goodbye, especially if there's any safety issues.
3. What's the Projected Cost Of Repairs?
This question also ties back to the previous two questions. The age and condition of your furnace will help you determine how much you should spend for repairs. For example, spending a few hundred dollars on a furnace that's middle-aged isn't unreasonable. However, if the repair estimate comes to more than a thousand, your money is probably much better spent investing in a new model.
4. Will A New Furnace Save Me?
Advances in HVAC technology are shocking to some customers. Today's furnaces are far more energy-efficient than those of even a few years ago. If you install a new unit, you can confidently expect your fuel bills and your carbon footprint to drop.
5. Questions About Air Quality & Temperature Control
A new furnace can provide superior home comfort in a variety of ways. For example, you can add on an air purifier or whole-house humidifier in your furnace to improve indoor air quality. You can also set up your new furnace so that you can set your heating at different temperatures in different zones of your home.
6. Are There Any Rebates Or Special Offers For A New Furnace?
Take advantage of special offers and deals that will make the purchase of a new home heating system more affordable. You could qualify for a program such as the Home Efficiency Rebate, which is offered to incentivize upgrading your home's energy efficiency.
7. What Will My Budget Cover?
To make this determination, you will have to crunch the numbers and see what you can afford. When you balance the cost to repair or replace a furnace, usually the repair has a lower upfront price tag. However, rebates and special offers (as outlined above), combined with your potential savings on fuel bills, can turn furnace replacement into a much more budget-friendly option.
Whether You Repair Or Replace – We're Here For You
Whether you decide to repair your furnace or replace it, letting the friendly professionals at Clayton-Englewood Heating & Cooling handle the job for you is a wise way to go. We'd be happy to discuss your various options and go over our financing options as well.
Are you needing to upgrade your home's heating or air conditioning system or need help covering the cost of repairs? We have convenient financing options! We have partnered with Wells Fargo to offer our credit card1 to help our customers keep their home comfortable year-round.
Convenient application
Manageable monthly payments
Fast credit decisions with approved credit
Ask your customer service representative or call us for details.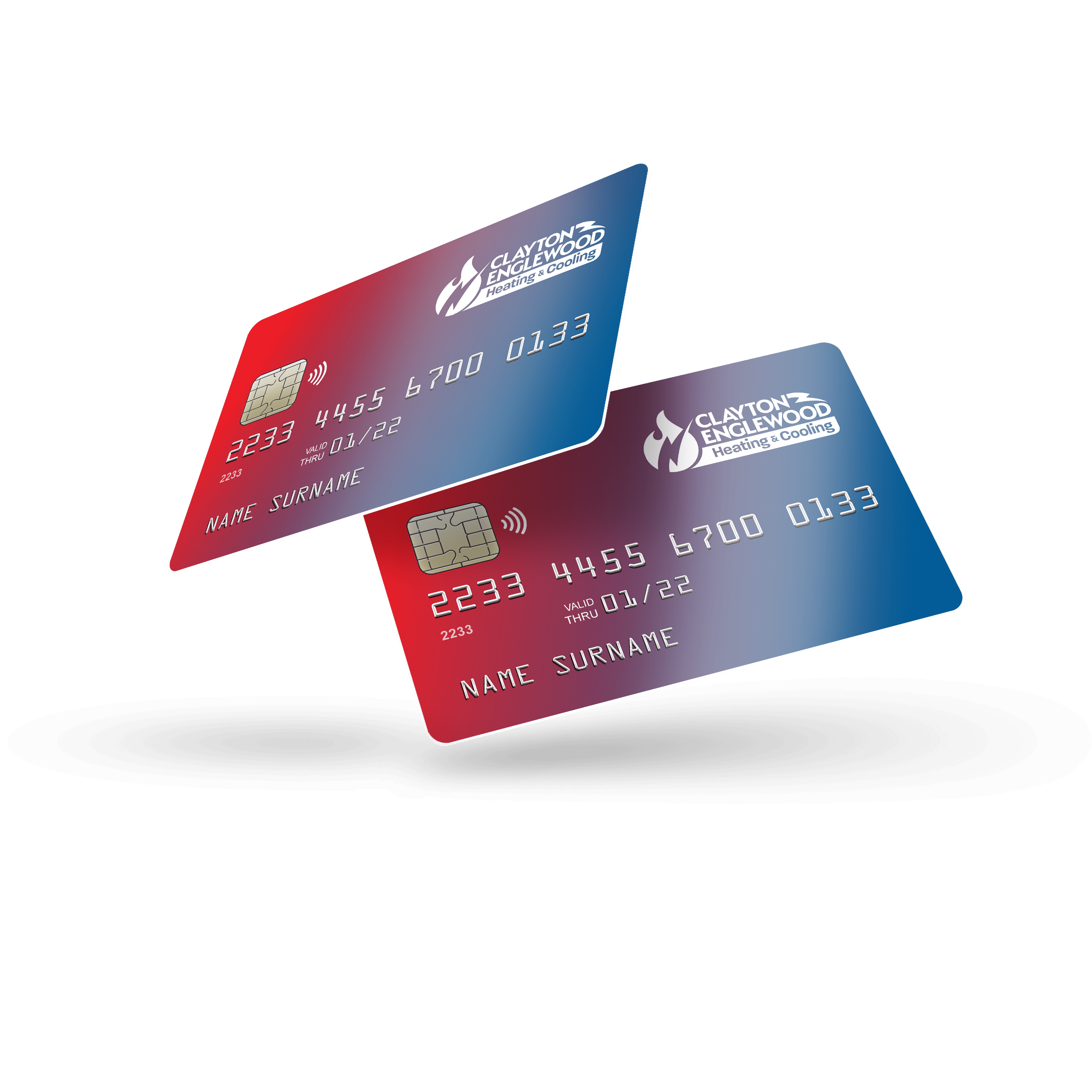 Why Choose Clayton-Englewood Heating & Cooling?
When it comes to anything related to a furnace or an air conditioner, or any sort of HVAC system, one call does it all when you reach out to Clayton-Englewood Heating & Cooling. Our home heating and cooling heroes have the prices you want, the HVAC services you need and the comfort you deserve. We offer heating when you need it and cooling when you want it — with services available around the clock.
We go to great lengths to help homeowners in the Miami Valley. We understand the importance of finding and hiring an HVAC company that's reputable, that does the job right, does it fast and does it at friendly and affordable prices.
Because this decision affects your home finances on top of your comfort and health, it's important to find an HVAC company that understands your needs and one that will walk you through the often troubled waters surrounding problems with home comfort equipment, a company that's qualified, honest, reputable and fully insured. It's also important to make sure you're doing business with a professional that's NATE-certified, and has a proven track-record of customer care and customer satisfaction.
At Clayton-Englewood Heating & Cooling, our service is second to none. Over the years, our customers have consistently given us positive feedback in support of our superior Five Star reputation. We are members of the Five Star Family. Because of this, we encourage new customers to verify our positive reviews and ratings for themselves. This should be done before hiring anyone to work on your valuable HVAC equipment.
We guarantee customer satisfaction above all else across the board. We have 24-hour emergency HVAC services 365 days a year, including weekends and holidays. We service, install and repair all the major brands of HVAC equipment (heat pumps, furnaces and air conditioners) utilizing cutting-edge technology. If you have us to come out to your residence to work on your HVAC system or install a new home heating or cooling system, you are treated with the utmost professionalism, care and friendliness by an employee of ours who's state-certified and who we have vetted, drug tested, and screened above and beyond the state's requirements. The reason we screen our employees like this is because we want to make sure we are sending you the absolute best the local HVAC industry has to offer.